LEMON FUCKING CURD
THIS AIN'T YOUR WEAK-ASS SHIT THAT COMES IN A JAR, THIS IS THE REAL MOTHERFUCKER THAT TASTES OF LEMON AND SWEET CUSTARDY GOODNESS AT THE SAME TIME. FUCK. THIS IS A LEGACY RECIPE FROM BEFORE MRS BEETON HAD A COOKBOOK SO YOU KNOW THIS SHIT WORKS OUT. 

 
  TAKE THREE EGGS YOU FILCHED FROM THE NEST OF A PHOENIX WHILE AVOIDING BURNING YOURSELF ON THE ASHES. ALTERNATIVELY, RANSACK YOUR FRIDGE FOR CHICKEN EGGS. YOU NEED THE YOLKS FOR NOW, BUT SAVE THE WHITES TO MAKE MERINGUES OR FEED YOUR FAMILIAR I DON'T FUCKING KNOW WHAT YOU DO IN YOUR FREE TIME. 
 
  WHISK THESE LITTLE GOLDEN SUNS UP WITH HALF A CUP OF SUGAR UNTIL THE SUGAR IS BEATEN TO SUCH TINY PARTICLES THEY CAN NO LONGER BE FELT BY YOUR FISTS OF PUNISHING. 
 
  SCRAPE THE RIND OFF TWO LEMONS USING A TOOL FASHIONED FROM FAIRY TEETH, THEN YELL AT THE LITTLE SKINLESS FUCKERS UNTIL THEY CRY OUT ALL THEIR TANGY JUICE.
ADD 1 TABLESPOON OF LEMON ZEST (THAT SKIN SHIT) AND 3 TABLESPOONS OF LEMON JUICE TO YOUR SUGARY EGGS!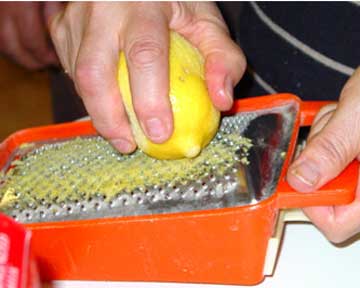 MAKE SURE THE BOWL YOU'RE MIXING SHIT IN IS FUCKING HEAT-PROOF!
SLAP A BIG-ASS POT ON THE STOVE ABOUT 1/3 FULL OF WATER, AND SET UP THAT ASSHOLE TO SIMMER. (MEANS TINY-ASS BUBBLES WILL BREACH THE SURFACE LESS THAN ONCE A SECOND!)
 SUSPEND OVER YOUR MIXING BOWL OVER THE HUGE-ASS POT AND GENTLY WHISK YOUR GLORIOUS LEMON CONCOCTION CONTINUOUSLY WHILE THE ARCANE STEAM GENTLY THICKENS YOUR SAUCE.
THIS WILL TAKE ABOUT TEN MINUTES SO IT'S A GOOD THING YOUR MEDITATIVE WHISKING SKILLS ARE LIKE FUCKING GOD-TIER. 
 
  WHEN IT'S ABOUT THE CONSISTENCY OF A CHILD'S MELTED ICE CREAM, WHIP THAT THING OFF THE HEAT AND ADD 120 GRAMS (1/4 lb) OF BUTTER BIT BY BIT IN THUMB SIZED CHUNKS. CACKLE HYSTERICALLY AS EACH PIECE IS SUBLIMATED BEFORE YOU ADD THE NEXT. IT IS A LONELY DEATH. 
 
  COVER THAT SHIT SO SWARMS OF BEES AND WASPS AREN'T DRAWN TO THE DELICIOUSNESS WHILE IT COOLS, YOU CAN PUT IT IN A CRYSTAL SKULL OR A JAR OR WHATEVER I DON'T REALLY GIVE A FUCK. WHEN IT'S SET IT WILL WOBBLE LIKE A GIANT YELLOW BOOB MAKE YOUR OWN SIMPSON JOKES OKAY. 
 
  THIS MOTHERFUCKER WILL LAST ABOUT A WEEK IN A COOL PLACE SO YOU CAN LOOK FORWARD TO GETTING OFF YOUR TITS ON IT WHEN YOU RETURN FROM PILLAGING/SAVING HEROIC FARM BOYS. EAT IT ON BREAD, IN CAKE, OR OFF YOUR FINGERS IF YOU'RE A HARDCORE MOTHERFUCKER.
recipebox555 reblogged this from fuckingrecipes