ARE YOU READY FOR SOME MOTHERFUCKING CHOCOLATE CHIP BANANA MUFFINS?
HELL YEAH YOU ARE, BECAUSE IF YOU DON'T LIKE MUFFINS, YOU CAN GO CHEW ON A SPLINTERY SKEWER FROM THOR'S CELEBRATORY BLOODBATH BBQ. 
OBTAIN A COW AND SHAKE THAT FUCKER UNTIL YOU GET HALF A CUP OF BUTTER. THROW IT INTO THE WHIRRING, SPITTING PIT OF YOUR MIXER OR GENTLY TAKE A SPOON TO IT LIKE A LITTLE ASSHOLE. NEXT, GET BENEDICT CUMBERBATCH TO CRY BEAUTIFUL TEARS- THESE WILL CRYSTALIZE AND TURN INTO A CUP OF SUGAR. ONCE YOU'VE MIXED THOSE USING YOUR VERY BEST INCANTATION, SCARE THE SHIT OUT OF A CHICKEN SO THAT IT GIVES YOU AN EGG. 
BEAT THAT INTO YOUR MIX AND DONT FORGET TO DROP THE BASS. ONCE YOU'VE DONE THAT, PULVERIZE THREE BANANAS AND BLEND THAT CRAP. YOU WANNA KNOW WHAT TYPE OF BANANAS ARE THE MOST GLORIOUS IN THIS SITUATION? THOSE ASSHOLES THAT HAVE JUST FINISHED TURNING COMPLETELY BROWN, PRETENDING THEY'RE ROTTEN MOTHERFUCKERS, WHEN ACTUALLY THEY'RE JUST PERFECTLY RIPE AND WAITING FOR YOU TO SHOVE THEIR PRISSY ASSES INTO SOME MUFFINS!
YOU CAN BEAT YOUR CHEST WITH A MIGHTY ROAR BECAUSE NOW YOU'RE READY TO THROW IN SOME FUCKING VANILLA. JUST DUMP A TABLESPOON IN THERE BECAUSE WHO GIVES A FUCK? ONCE YOU'VE ROBBED WILLIE WONKA AND ADDED HALF A BAG OF CHOCOLATE CHIPS IT'S TIME FOR YOUR SWEET BABY DRY MIX. FIRST TAKE SOME CORN OR WHEAT AND POUND IT WITH YOUR HULK FISTS INTO TWO CUPS OF FLOUR. 
ADD A TEASPOON OF BAKING POWDER AND A TEASPOON OF BAKING SODA. 

NOW MIX IT ALL TOGETHER LIKE FROM THAT BOOK JOHN GREEN WROTE. "SLOWLY, THEN ALL AT ONCE."

TAKE YOUR HELL PIT OF AN OVEN AND SET IT TO 375, JUST HOT ENOUGH TO ROAST A DWARF BUT COOL ENOUGH FOR YOUR PRECIOUS LITTLE BABIES NOT TO BURN AND TURN INTO CHARCOAL.
SOME ASSHOLES LIKE TO PUT LITTLE PAPER CUPS IN THEIR MUFFIN PANS, BUT PERSONALLY I JUST BUTTER-SPRAY THE SHIT OUT OF THE PAN BEFORE SLAPPING ENOUGH BATTER IN EACH ONE TO STILL HAVE A PINKIE-FINGER-WIDTH OF PAN STILL SHOWING AT THE TOP OF THE DAMN BATTER-POCKET!
COOK THOSE SWEET LITTLE MUNCHIES FOR 15-20 MINUTES WHICH IS LONG ENOUGH TO WATCH HALF A SUPERNATURAL EPISODE AND BAWL YOUR EYES OUT. HOPEFULLY YOUR TEARS OF AGONY WILL COOL THOSE LITTLE BASTARDS AND YOU CAN STUFF AS MANY AS YOU CAN INTO YOUR FACE HOLE! COOL!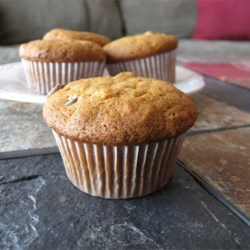 IF YOU'RE THE KINDA SMUG ASSHOLE WHO IS ALLERGIC TO BANANAS OR SOME SHIT, OR MAYBE YOU JUST DON'T LIKE THE BEAUTIFUL BUGGERS, YOU CAN TRY THESE SUBSTITUTES, IN PLACE OF THE BANANAS:
1 AND 1/2 CUPS PUMPKIN PUREE

1/2 CUP APPLESAUCE AND 1/2 CUP GREEK YOGURT
To make glutenfree, replace flour with glutenfree flour.
To make dairyfree, replace butter with a butter substitute.
To make vegan, replace butter and eggs with vegan substitutes.